Agra is known, to the world as the city of Taj Mahal. Agra has its roots, dating back to the time of Mahabaratha. Agra is situated on the west-bank of River Yamuna, 204 km south of Delhi. The old part of the town, north of the fort, is where the main market place is. The modern township is on the south. Agra has a magnificent fort and many other monuments from the Mughul era, not to mention the Taj Mahal, which are major attractions to the tourists
❖

Taj Mahal
There is no other monument in the world, which can match the beauty and grandeur of the Taj Mahal. Set amongst the serene ambience of a well laid out garden the massive marble structure of the Taj is awe-inspiring. The Taj Mahal was built in the 17th century by Shahjahan- the fifth Mughal emperor, in memory of his beloved wife, Mumtaz Mahal. Shahjahan loved his wife so much that after she passed away in 1631, he decided to immortalize their love in the form of the Taj Mahal. It is more than 350 years since Taj Mahal was built, but it has not lost its romantic aura, which attracts millions of visitors towards it.
---
❖

Agra Fort
Agra might be world famous for the Taj Mahal, built by the Mughal emperor Shahjahan in memory of his beloved wife. However, it is also famous for the Agra Fort, which is a veritable treasure trove of the Mughal architectural tradition. The various buildings within this sprawling fort complex represent the assimilation of different cultures, which was the mark of the Mughal period.
---
❖

Fatehpur Sikri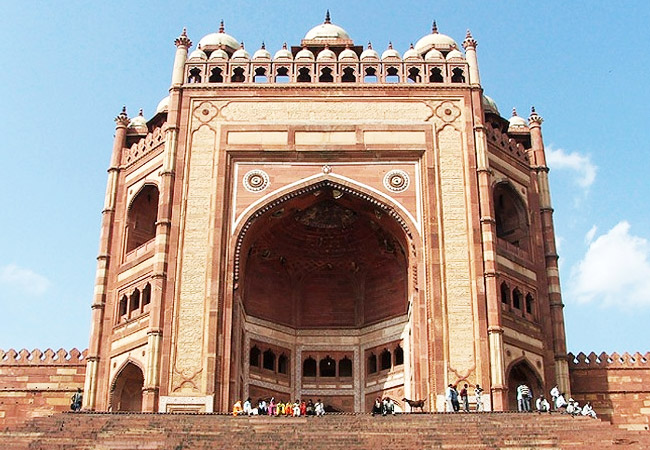 37 kms from Agra is built a city predominantly in Red Sandstone called Fatehpur Sikri. This town was built by the Mughal Emperor Akbar. He had planned this city as his capital but shortage of water compelled him to abandon the city and within 20 years the capital of Mughals was shifted to Lahore. Fatehpur Sikri was built during 1571 and 1585. The city is a fine example of culmination of Mughal and Hindu architecture. Any visitor to Agra must have a go at Fatehpur Sikri. Fatehpur Sikri mosque was said to be built in lines of the holy mosque in Mecca. Entrance to the mosque is through the Buland Darwaza that is 54m high.
---
❖

Itmad-ud-Daulah's tomb
Itmad-ud-Daulah's tomb is a highly ornate edifice, which is looked upon as an imminent precursor of the Taj Mahal as far as elaborate carvings and inlay work are concerned. The tomb marks a significant departure from the tombs of the Mughal dynasty built before its construction.
---
❖

Jama Masjid
Built by Shah Jahan in 1648, the main gate of this mosque has inscription written on it that it was built by Jahanara Begum. She was the favorite daughter of Shah Jahan and was imprisoned with him. The absence of minarets and the shape of the dome give sit a distinguished character.
---
❖

Akbar's Mausoleum, Sikandra

Four kilometer from Agra is the mausoleum of Akbar. Construction of this beautiful monument was started by Akbar himself . This structure has a perfect blending of Hindu, Christian , Islamic, Buddhist, Jain motifs.
---
❖

Chini Ka Rauza

A tomb of glazed tiles is a memorial dedicated to poet-scholar and later the Prime Minister of Shah Jahan, Allama Afzel Khal Mullah Shukrullah of Shiraz.
---
❖

Dayal Bagh Temple

15-kms from Agra, Dayal Bagh, also known as Soamibagh, houses the samadhi of the founder of Radha Swami faith, 'Swamiji Maharaj'. The main structure is a majestic building, 110-feet in height, built of pure white marble. The belief here is that construction work should never end, making it into a living monument, hence it is under construction for almost 100 years.
---
❖

Mariyam Tomb

This tomb is dedicated to the wife of Akbar. The red sand stone tomb was built in 1611 and is on the Delhi- Agra highway. The carvings on the tomb of Mariyam-us-Zamani are worth giving a closer look.
---
Visiting Time
Agra can be visited throughout the year, but one must avoid the extreme hot summers (April-June) and rainy season (July-Sept). The most suitable time to visit Agra is in winters.
How to Reach
By Air: Indian Airlines connect Agra with Delhi, Khajuraho and Varanasi.
By Bus: Agra is connected by good motorable roads to Delhi- 204 km, Jaipur-237 km, Khajuraho- 395 kms, Mathura- 54 kms, Gwalior- 110 kms, Lucknow- 257 kms, Bharatpur 54 kms etc.
By Train: Agra is connected by rail with major cities, like Ahmedabad, Allahabad, Bombay, Calcutta, Delhi, Jaipur, Madras, Secunderabad and Trivandrum.